We are excited to announce that Atlantic Pacific Theatre is going to Mille Lacs Lake, Minnesota this summer for a Playmaking Project in collaboration with Project Mezinichigejig and Adrienne Benjamin !! We are excited to collaborate with the Ojibwe community in this area, and we are honored to create alongside it's youth and community members.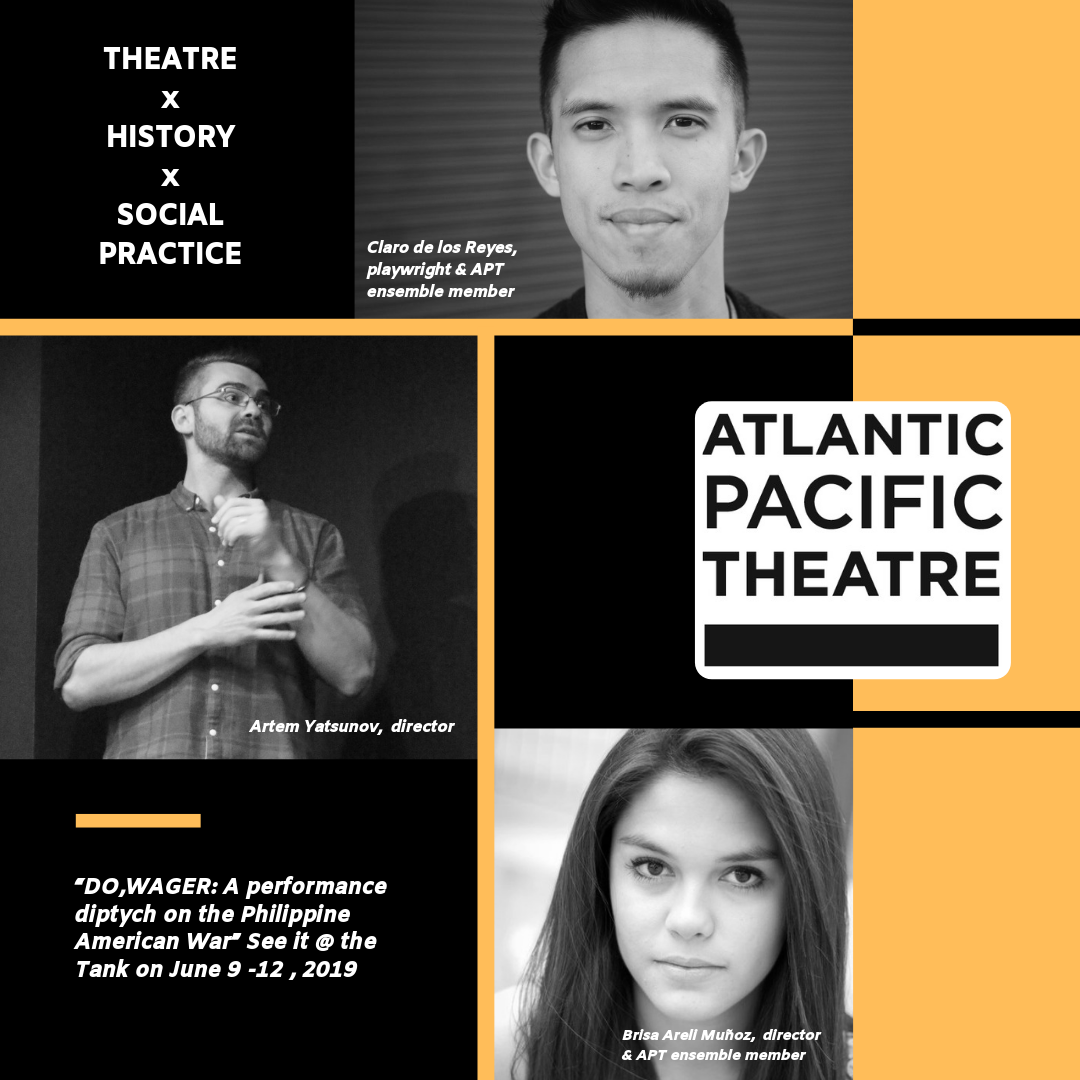 "DO,WAGER: a performance diptych on the vestiges of the Philippine American War" (JUNE 2019)
Part 1: Devised by the Atlantic Pacific Theatre ensemble and directed by Brisa Areli Muñoz.
Part 2: Written by Claro de los Reyes and directed by Artem Yatsunov & Marion Elaine Lopez
Atlantic Pacific Theatre's performance diptych play format juxtaposes two distinct theatre experiences in a single presentation. In the case of DO,WAGER, Part 1 is a devised participatory history play utilizing educational theatre conventions while Part 2 is an experimental one act play. APT's performance diptych plays aim to band together theatre artists, public artists, and educators working to create an experience that situates itself between: history-based education, participatory theatre, and the experimental theatre tradition. *The play premiered in 2018 as part of Downtown Art's Performance | Social Justice Artist in Residence program (May 2018).
CREATIVE TEAM:
Playwright: Claro de los Reyes
Devised Theatre Artists: Claro de los Reyes, Ben Weber, and Brisa Areli Muñoz.
Director: Brisa Areli Muñoz; Director: Artem Yatsunov & Associate Director: Marion Lopez
CAST: Laura Cabochan, Claro de los Reyes*, Teisha M. Duncan, Angela De Marie, Precious Sipin, Robert Thaxton-Stevenson, Ashley C. Turner*, Ben Weber.
*These Actors are appearing courtesy of Actors' Equity Association. *This production is an Equity approved Showcase
Friday March 16, 2018; 8pm
A workshop production of "A&R,305"
Location: Brooklyn Arts Exchange 421 5th Avenue Brooklyn, NY 11215
a short play by Claro de los Reyes | directed by Tara Elliott
produced as part of: Brooklyn Arts Exchange's Upstart Program 2018
Saturday April 7, 2018; 1-4pm
Afro-Asian Healing Practices: A participatory workshop on the practicing and reclamation of healing traditions from the African diaspora and the Asian Pacific Islander diaspora.

Facilitators Shamilia McBean and Jana Lynne Umipig will welcome participants to an interactive workshop that shares traditions rooted in African diaspora and Asian Pacific Islander diaspora healing practices. Facilitators will discuss intersections across the traditions as well as motivations to sustain and extend these practices in the present day.
FREE & OPEN TO THE PUBLIC
LOCATION: Kelly Street Garden, Bronx, NY
924 Kelly St. Bronx NY 10459
TIME: 1-4pm
Saturday April 14, 2018; 3-5pm
Afro-Asian Storytime x "Radical Playdate"
Location: Interference Archive 314 7th Street Brooklyn, NY 11215
At this special meeting of Interference Archive's "Radical Playdate", special guests from Callaloo: Cultural Literacy for Kids and Sari-Sari Storybooks will read selections from Afro-Asian storybooks. There will be toys, craft tables, and mats to engage kids and adults are free and welcome to browse the radical materials present at the Interference Archive. *Authors Marjuan Canady (Callaloo) and Christina Newhard (Sari-Sari Storybooks) will be present.
Bring a favorite Afro-Asian book to share, bring a snack, or just bring yourselves! There will also be a Q&A with the book's authors.
Recommended ages: 8 and under
Suggested donation: $5 (but no one will be turned away!)
Presented by Atlantic Pacific Theatre
in collaboration with Callaloo and Sari-Sari Storybooks.